I'm Giselle Zart, designer, illustrator and always curious. With experiences in visual design and digital products, I have 32 years old and my gateway to the creative area was learning about pixels, vectors and photography. Started editing images, then creating digital, graphic arts and editing videos.
My formely background was as an industrial, visual design and with art direction, career that I like a lot and learned many things. Started creating identities, campaigns, storyboards for motion design, 3D projects, websites and apps - planning, thinking about visual details, then brand guidelines and combining interfaces with multiple touchpoints. Also I have already worked leaving my expression as a photographer and 

illustrator

.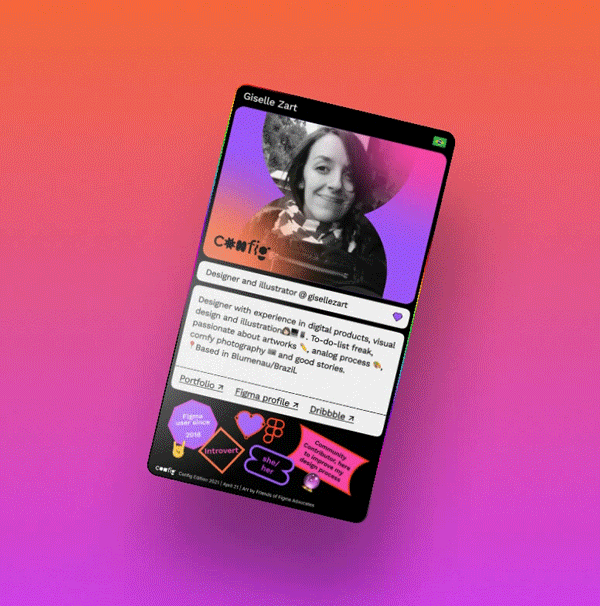 Specialized in Illustration (Univali), certificate in UI/UX Design (EBAC/2020) and Design System & Ops (Meiuca/2020), degree in Technology in Interior Design (Uniplac/2010), with a technician in Photography (Senac/2011). Working since my degree with simple to complex projects, built things as a freelancer and collaborating with teams in fintechs, startups, agencies and industry.  Some projects for clients like XP Inc, Banco do Brasil, Fundação e Museu Hermann Hering, Unimed, Henry Schein/Dental Cremer, Vale Auto Shopping, Rosecon, Wishin, Buddemeyer, Karmani, Senior, Blumenau Gastronômico, Elian Têxtil and Idelli Ambientes.
Currently my journey is in tech and product design. Learning about the user-centric process and using sensitivity and creativity to concept, redesign flows and guidelines, designing projects for multiple markets and learned a lot about omnichannel. I worked in multidisciplinary teams, with different levels of complexity, to achieve to achieve the goal of simplifying journeys and experiences.